In 2009, Danielle and her husband, Ryan, were trying to get pregnant when Danielle became aware that she had PCOS (polycystic ovary syndrome), which can create difficulty conceiving.  One week later, Danielle was diagnosed with breast cancer.  For many, this would have put the dream of having a child out of reach, but not with Danielle.
"The hardest part of having cancer was knowing that I would have to wait even longer to have a child."
Danielle's oncologist recommended that she speak with Dr. Susannah Copland, the director of fertility preservation and third-party reproduction at Duke University's Division of Reproductive Endocrinology.  They stayed in touch, and three years later, when Danielle was cleared to try conceiving again, she followed Dr. Copland to Atlantic Reproductive Medicine Specialists – a practice that Dr. Copland started with Dr. David Walmer (the former director of medical services for Duke University's IVF Program) in fall of 2012.
"I wanted to try again naturally, and Dr. Copland was very supportive.  Ryan and I got pregnant independently, but we miscarried each time."
Danielle got back in touch with Dr. Copland.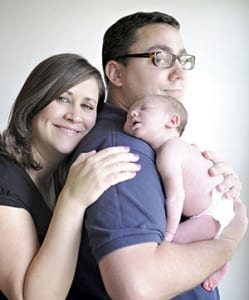 "Dr. Copland had treated my OB issues, and I knew I could trust her.  I liked the certainty I felt with her."
After two months of fertility treatments, Danielle and Ryan conceived Parker.
"When we heard Parker's heartbeat at our 6-week ultrasound, we were so excited!  In the past, I had miscarried each time at 4-5 weeks, so this was the first time we had ever heard a heartbeat!"
Parker is now 6 months old and thriving.  And, with the continued assistance of Atlantic Reproductive, Mom and Dad are beginning to plan for Parker to have a future little brother or sister.
"Everyone at Atlantic knew our names.  I always felt they cared and wanted to hear from me throughout my pregnancy.  We want to work with Atlantic because we know we are in good hands."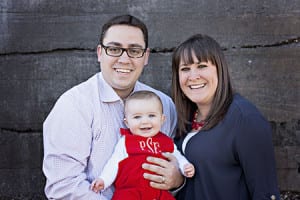 Photo Credits: Lauren Garrison Photography