How does the Univfy PreIVF Report predict my chances of success?
The Achieve IVF Refund Program is powered by a Univfy PreIVF Report customized for Atlantic Reproductive Medicine Specialists patients.  The Univfy PreIVF Report uses your own reproductive data to predict your probability of IVF success accurately.  Through predictive technology developed by Stanford University researchers, Univfy used a rigorous scientific process to develop and validate a customized IVF prediction model with Atlantic Reproductive Medicine Specialist's data.  It analyzes many factors in your fertility profile—including age, body mass index, ovarian reserve test results, semen analysis, and clinical diagnosis.
The Atlantic Reproductive Medicine Specialists medical team will run your personalized Univfy PreIVF Report after completing your fertility workup (or diagnostic tests).  When you return for your consultation appointment, we will provide you with the Univfy PreIVF Report.
At Atlantic Reproductive Medicine Specialists, we provide a customized Univfy PreIVF Report to our patients free of charge because we believe in supporting our fertility counseling with the latest, best-in-class technology to give you a personalized and accurate probability of treatment success.
Making IVF more affordable for more fertility patients.
By using the best-in-class personalized predictions of IVF success, Atlantic Reproductive Medicine Specialists is able to provide refund pricing to more patients like you.  We have chosen to use the Univfy PreIVF Report to power The Achieve IVF Refund Program because Univfy has set the gold standard for measuring the accuracy of IVF success at the patient level.
Powered by Univfy to increase your chances of success and make IVF more affordable.
A global leader in fertility analytics, Univfy is:
Proven to be more accurate than age-based estimates.
Powered by experience from analyzing data from over 150,000 IVF cycles and 750,000 embryos from diverse populations across the U.S., Canada, Europe, and Asia.
Passionate about helping more patients like you get affordable IVF treatments at top IVF centers.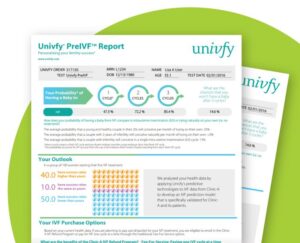 *Patent Protected. Copyright © 2013-2017.  Univfy Inc. All rights reserved.  Reproduction in whole or in part is strictly prohibited.