According to Dr. Walmer, PhD., M.D., when choosing a physician to guide a patient through reproductive services, whether generalized obstetrics and gynecologic care or evaluation of infertility issues, it is important to look for a number of different characteristics.
First, look for a fertility doctor who is trained to deal with the infertility specialty and who will spend personalized time with you to get to know your values, not just your infertility challenges.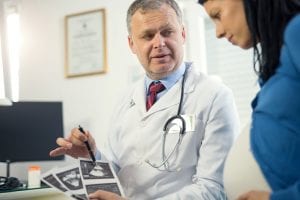 You should never feel pigeonholed into a certain method of evaluation and fertility treatment based on someone else's values. Your Raleigh fertility specialist needs to demonstrate all options in a stepwise progression, fully explaining the length of time, associated risks, and the potential for success of any given treatment plan provided.
In some cases, couples may adjust values in order to incorporate a new diagnostic tool or therapy. To do this, couples must fully understand the vast variety of options, such as the differences between INVOcell and IVF. The doctor and the patient together need to strategize to produce an individualized long-term plan tailored to the patient's values, fertility challenges, and expectations.
Ask the Right Questions
You may want to know which factors are specific to you that may influence your probability of conception.  What are the potential risks? What is the investment? That investment is time, money, and sometimes the psychology behind the frustration of a couple repetitively unsuccessful at becoming pregnant.
Once a couple understands the criteria, they can apply their values and make decisions. The scenario of how a patient comes into a reproductive endocrinology and infertility (REI) doctor's office typically begins via her family practice or OB/GYN doctor, both of whom can often provide good early data, a thorough history, blood work, and other tests.
The most important question to ask your infertility specialist in Raleigh is whether he or she is board-certified in his or her specialty. Not all generalists are board certified and sometimes an OB/GYN will be board certified, but not necessarily as a specialist. Board-certified REI doctors have completed four years of an OB/GYN residency and usually three more years of a fellowship in REI. Naturally, there are doctors who promote themselves as infertility specialists but lack the vast experience or necessary certification.
To determine if your fertility doctor is board certified, visit the American Board of Obstetrics and Gynecology (ABOG) website (www.abog.org) and click on, "Is your Doctor Board Certified?" Enter the doctor's name and state and then you can determine if your doctor is board certified in OB/GYN and potentially a subspecialty, such as REI.
When to See a REI Doctor
Some patients consider preconception counseling to determine whether or not there may be a challenge to achieving a healthy pregnancy. Some men and women might know they have a specific problem, in which case there is absolutely no reason to wait, and they can schedule an appointment with a fertility specialist directly based on a referral or simply by location and reviews.
If a woman is not in a hurry, in her twenties to early thirties and she is otherwise healthy and without any specific knowledge that might hamper her fertility, she can try to conceive for six months to a year before deciding if she needs further evaluation.
This would mostly be true for patients with normal monthly periods, no history of pelvic inflammatory disease, polycystic ovarian syndrome, or endometriosis. However, if she gets into her mid-to-late thirties, she may want to get early counseling even before she has tried to conceive for three to six months. The average age a woman shows up not thinking she is going to have a problem or that it has taken longer than expected is between 34 to 36.
It is important to be counseled around age 35 because at that age and older, the woman is considered at risk for birth defects and has a higher spontaneous miscarriage rate.
Preconception Counseling
All women seeking to become pregnant would benefit from pre-conception counseling  for baseline diseases to be diagnosed and treated, such as high blood pressure and diabetes. This helps minimize complications and sometimes prevents birth defects.
This counseling can help answer some basic questions: Are there sperm? Are there eggs? Can they find each other? Is the uterus a good place for the baby to be?
Doctors usually spend an hour of counseling with couples going over concepts to help them understand human reproduction. A lot of people do not realize humans are actually habitual aborters by nature and the average length of time it takes a young woman with no problems to get to a positive pregnancy test is four months.
It used to be thought that it was first month, non-pregnant; second month, non-pregnant; third month non-pregnant;  then pregnancy in the fourth month of trying. But, now it is known that it is actually, unrecognized miscarriage, unrecognized miscarriage, another unrecognized miscarriage, then a viable ongoing  pregnancy in the fourth attempt. It is important to teach patients a little bit about fertility and some of the preconception factors to consider, such as genetic testing for autosomal recessive genetic disorders that would not necessarily show up from a family history such as cystic fibrosis and sickle cell disease in the African-American population.
Doing early counseling and basic blood tests, doctors learn things people do not normally think about to help them have a healthy pregnancy or identify a subtle infertility issue that might prompt earlier intervention.
Even though a patient has an OB/GYN, she might bypass that doctor if she is having problems or suspects there is an issue. This might be related to her significant other and his or her medical background. One thing a patient does not think about or know is REI doctors create the problem (a pregnancy) other physicians take care of. REI doctors at Atlantic Reproductive Medicine help the patient achieve a healthy pregnancy and provide care for up to eight weeks' gestation.
Then her OB/GYN doctor takes care of her for the rest of the pregnancy. It is important for couples to realize OB/GYN and REI doctors work together. Both parties often continue to work together once the patient has achieved a pregnancy and are engaged with each other from the beginning to birth.
Conclusion
The area of reproduction and infertility is rich. Patients are very fortunate to have a number of good fertility programs throughout the Raleigh area. There are two university programs with academic atmospheres where active learning occurs. Those emerging doctors are going to be keeping up with the latest knowledge and technology.
With a vast number of options, it is important to consider other factors. For example, a patient who is sensitive may not want "learners" in the room. Some fertility practices are extremely busy and are not going to have much time with the provider, compared to a lower volume practice where the providers intentionally take more time with their patients.
If you are seeking a fertility doctor, you can find a good fit by asking your primary care doctor for a recommendation based on your values. You can also begin with an evaluation of the practice to identify the varying practice styles on your own.