Appreciation Discount Program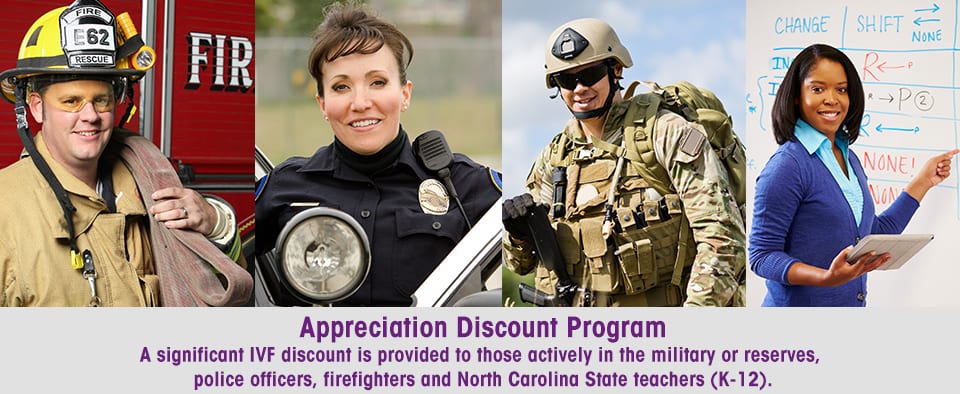 A significant IVF discount is provided to those active in the military or reserves, police officers, firefighters, and North Carolina State teachers (K-12). 
We have a special offer for you if you're a member of any of these services:
Military
Police
Reserves
Firefighters
NC State Teachers (K-12)
We are grateful for your service and respect your daily sacrifices. If you're struggling to conceive or facing other fertility issues, our highly trained, qualified, and experienced fertility experts would be honored to assist you in creating the family you desire.
Because we believe it's the least we can do.
Fertility Services from A-Z
Atlantic Reproductive Medicine are just that: specialists. We know every case is different, and every story is personal. That's why we work with every patient who walks through our door to devise a treatment plan that works with your schedule, budget, and circumstances.
Though every patient's process is different, your fertility treatment plan will likely include any of the following:
Preconception counseling
Testing to determine the causes of recurrent pregnancy loss and or failure to conceive
Genetic testing
Ovarian reserve testing
IVF or intrauterine insemination
Egg or embryo banking
Pre-cancer treatment sperm banking
Egg vitrification
Once we've assessed your case, we'll work with you to determine the most likely medical technologies to give you the best possible chance of success.
Holistic Approach
Fertility treatment is just one part of a much larger process. We understand that complex issues must be dealt with, major life changes to contemplate, and fears to conquer. That's why we try to ensure that our facility offers all the support you need in one place.
We have an on-site laboratory, so your testing can be done faster and more accurately. We also offer psychological preconception counseling and complementary treatments like acupuncture. We want to be with you every step to becoming pregnant, and we've set our practice up, so that's exactly what we do.
It's Our Turn to be of Service
We offer military discounts, teacher discounts, and discounts to public service people because you've done our country, our State, and the communities we live in great service, and we'd like to return the favor.
So if you're ready to take the next step, come work with a patient-centered reproductive medical practice and find out what modern medicine can do for your fertility — we'd like to help. Contact us to schedule a consultation.