Starting your journey to conception.

Deciding to build a family as a same sex couple is a major life decision that involves thoughtful planning. Through long established fertility treatments there are many pathways to building a family as a same sex couple.
Same Sex Male Couples
Helping Same Sex Male Partners Video Link
Same sex male couples or single men can have a biological child with the assistance of an surrogate or egg donor and gestational carrier through IVF. You and your partner can provide sperm and your egg donor and gestational carrier can be known to you or anonymous.
Egg donors are typically between the ages of 21-35 and have undergone comprehensive medical tests to help reduce the chances of genetic diseases. Your donor eggs can be supplied from a fresh egg donation or a frozen egg bank depending on your requested donor characteristics.  
When choosing your egg donor you'll be asked to consider a handful of factors including chances of a successful implantation, proven fertility, hair and eye color, educational background and more.
A gestational carrier will carry the embryo created from the donor eggs and your sperm and have no genetic relationship to your child. Gestational carriers have had at least one successful pregnancy, is raising a genetic child and is typically between the ages of 21-40.
Same Sex Female Couples
Helping Same Sex Female Partners Video Link

Same sex female couples or single women can have biological children through IUI or IVF using donor sperm. Sperm donors can be known or anonymous and undergo comprehensive medical testing regarding their medical and family history, genetic background and more. Every donor sperm receives an analysis and testing to identify any possible genetic diseases that could be passed along to your child.  
When selecting a sperm donor same sex female couples will also be asked to consider other factors such as donor pregnancy rate, eye color, hair color, educational background, height, ethnicity and more.
As a same sex female couple you have various options in regards to the pregnancy. For example, if you wish to carry the pregnancy from you own eggs and testing determines no known fertility issues then pregnancy can be achieved via IUI. On the other hand if you want to share a pregnancy by carrying an embryo from your partner's egg, she can be you egg donor via IVF.
Protecting Your Family
From surrogacy contracts and gay adoption laws to birth certificate issues and dispositional control over frozen genetic material, you'll need a comprehensive team with experience to help you navigate complex reproductive laws to protect your family.  
Our fertility doctors partner with agile reproductive teams that include attorneys and psychologists that understand the importance of  communicating directly to ensure your journey towards parenthood is properly planned for, protected and managed.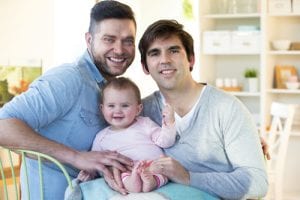 Conception & Beyond
Starting the journey to build your family as a same sex couple is an exciting time that also requires preparation and patience. Preconception counseling is the first step in your journey and can give you the answers you and your partner need to make the best decisions for your family. Schedule a preconception counseling session today. Our experienced fertility doctors in Raleigh are ready to meet you wherever you are on your  journey to conception.
Atlantic Reproductive provides fertility treatment, testing and more to patients in Raleigh, Cary, Durham, Fayetteville, Chapel Hill and beyond from our office in Brier Creek. We also offer satellite monitoring in Wilmington and Morehead City. Contact us today to schedule a consultation.