Affording Care
Atlantic Reproductive offers many financial tools to help you achieve the family you desire. Please email us with any questions you may have. We are here to help.
IVF Cost: Single Cycle
One Fresh IVF cycle.  Package Includes:
ADMINISTRATIVE FEE-Coordination of Cycle, Injection Training, Paperwork and Medication Order Management.
MONITORING-Unlimited Follicular Ultrasounds
RETRIEVAL-Physicians Fee, Ultrasound Guidance-Ova Aspiration, Oocyte Identification, Insemination of Oocyte, Sperm Prep, Oocyte Culture, and Anesthesia.
EMBRYO TRANSFER-Physicians Fee, Preparation of Embryo for Transfer and Ultrasound Guidance for Embryo Transfer.
How can IVF be more affordable and increase my chances of success?

IVF is one of the most effective fertility treatments available today.  That's why many patients like you are considering it.  But the high costs of IVF and often uncertain outcomes may keep you from trying.
Atlantic Reproductive Medicine Specialists is proud to offer The Achieve IVF Refund Program to help you choose IVF in a way that saves both precious time and money in your fertility journey while improving your chances to have a baby.
Eligible patients can undergo 3 IVF treatments—with the ability to use all of their frozen embryos, if needed, for the best chance to have a baby with their own eggs.
The package costs less than paying for 3 separate IVF treatments.
If you do not achieve a viable pregnancy at 12 weeks gestation with the 3 IVF treatments, Atlantic Reproductive will refund you 50% to 100% of your cost.  Atlantic Reproductive Medicine Specialists is able to offer The Achieve IVF Refund Program to up to 50% of our patients, while most other fertility clinics offer refund programs to only a limited number of patients.  Why?  We use the Univfy PreIVF Report, which provides highly accurate, personalized predictions of each individual patient's IVF success and does not limit refund eligibility based on artificial age or blood test cut-offs.  Univfy has shown that more patients have a higher probability of IVF success than previously thought.  With the Univfy PreIVF Report, The Achieve IVF Refund Program can qualify many more patients.
How Can You Afford Your Fertility Treatments?
Let ARC Fertility help you!


Atlantic Reproductive Medicine Associates understands that choosing the right fertility treatment option can be overwhelming. That's why we are proud to partner with ARC Fertility. (ARC) to provide you with the most affordable options through financing programs, refund packages, and affordable pharmacy plans. Learn More
ARC is the nation's largest network of fertility specialists in the US.  It is a patient-focused organization that offers every new patient the value of its more than 18 years of experience and the trust it has earned by helping thousands of patients get pregnant. ARC and its member clinics are committed to making the average cost of IVF and other fertility treatments predictable and affordable.
ARC offers a number of affordable options for patients to choose from:
Next Steps:
Call ARC toll free at 1-888-990-2727 to speak with a Patient Services Specialist
When you call please ask about our discounted affordable treatment packages
Financing Options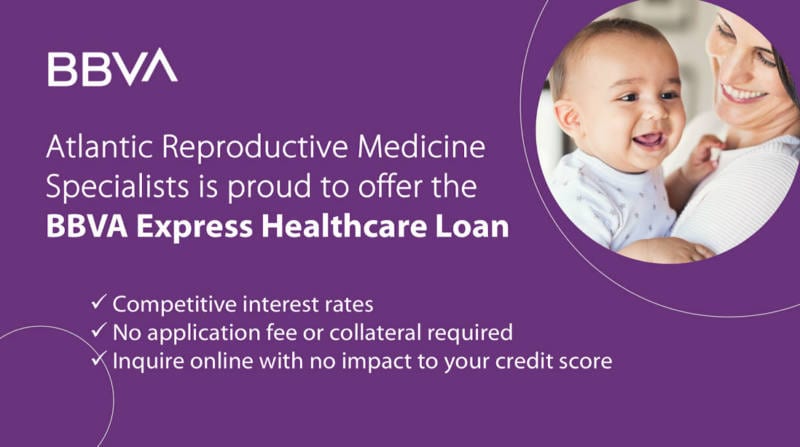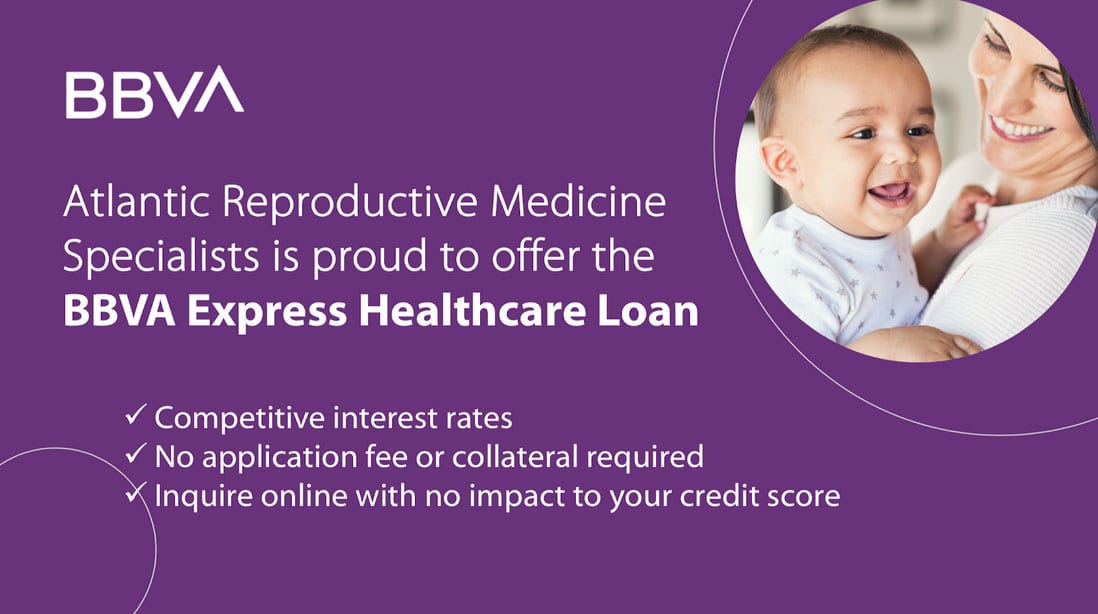 Start your treatment today with the BBVA Express Healthcare Loan
Atlantic Reproductive Medicine Specialists is pleased to offer our patients the BBVA Express Healthcare Loan, a fast and easy way to cover the cost of your fertility treatments.
See potential loan options for amounts up to $35,000 with no impact to your credit score
Fixed-rate loans starting at 0% APR (up to 18.99%)
No application fee, prepayment penalty or collateral required
Family members are welcome to apply on behalf of their loved ones
Be sure to apply through the button below to take advantage of the competitive rates
ARMS Appreciation Discount Program
A significant IVF discount is provided to those actively in the military or reserves, police officers, firefighters and North Carolina State teachers (K-12).
Click Here To Learn More


Lending Club Patient Solutions – Patients need a simple and affordable way to pay for the care you prescribe. Lending Club Patient Solutions provides it. Our rates are low, our approvals are high. Decisions happen faster than ever before. And patients have the funding flexibility they need. Best of all, practices are freed up to focus on what they do best: care for patients.
Fertility treatment can be tough. Financing shouldn't be.
Your fertility patients have complex needs. They want compassion, not credit hassles. Plans up to $50,000 cover a wide range of fertility treatments. Longer repayment terms help keep monthly payments affordable for applicants. Small wonder most of the country's largest fertility networks use Lending Club Patient Solutions. Let Lending Club Patient Solutions make your patients' lives easier.
Thousands of patients have trusted United Medical Credit to secure affordable payment plans for their procedures. United Medical Credit can do the same for you.
Some of the benefits of choosing United Medical Credit to finance your care:
Extensive Network of Prime and Subprime Lenders
Multiple Plans to Choose From
Decisions Within Seconds
No Prepayment Penalties with Flexible Terms
Fast and Easy Application Process with No Commitment
100% Confidential
Plans available for Credit Challenged Applicants